AESTHETIC
INVISALIGN
Straight teeth – sans metal. Invisalign is a subtle and effective solution to achieving a brilliant, confidence-boosting smile. In collaboration with one of Boston Dentals' skilled doctors, patients first determine the desired shape and curve of their smile to best suit their facial structure. Then, we architect a custom regimen of these clear aligners to incrementally straighten teeth over time – the full recourses ranging from 9-15 months. With the introduction of each new set of these discreet, clear, custom aligners, your teeth shift into perfect alignment. In addition to being removable, the aligners afford ultimate comfort and allow you to maintain your normal eating habits and dental hygiene – even pop them out for special occasions, if you wish. Make your desired smile a reality in just a few weeks with modern, tailor-made, easy-to-use Invisalign sets.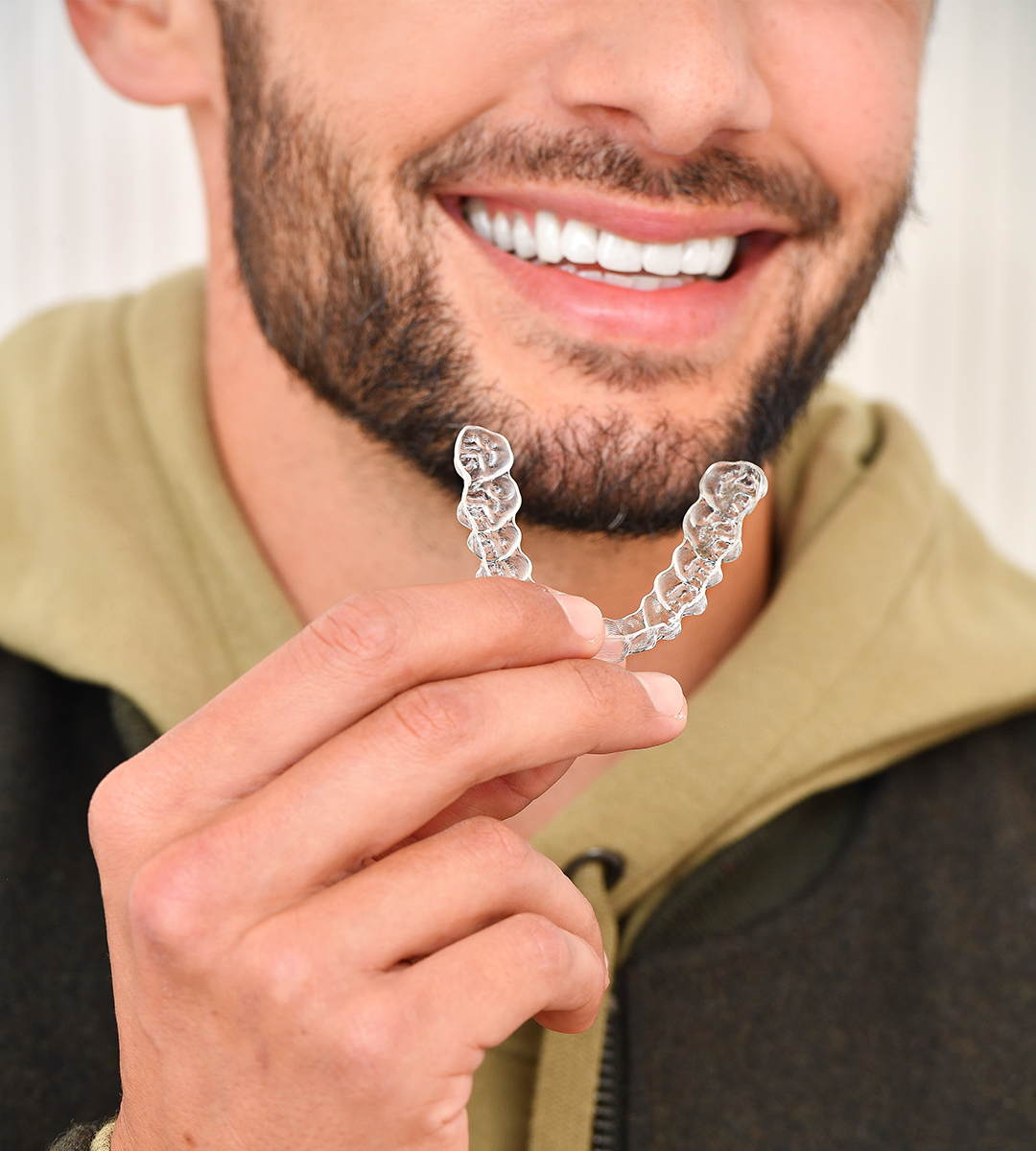 HOW IT WORKS
01. Book Appointment
Easily schedule your appointment in a few simple steps by booking online, calling our offices, or visiting your nearest location. New patients can schedule a virtual consultation online.
02. Preliminary Examinations
Our team will help you coordinate a clinical examination and accompanying x-rays or imaging required to create your custom aligner recourse.
03. Design & Development
Our skilled orthodontists design your series of Invisalign aligners meticulously to help you achieve your desired results as efficiently and effectively as possible.
04. Personalized Aftercare
After your Invisalign aligners are crafted, we provide each patient with a clear treatment plan, along with techniques to help you maintain optimal dental health in-between visits.
01
EXPERT DOCTORS
Boston Dental employs some of the most experienced and decorated doctors in the field and in Boston. Each a master of their craft, our elite team of experts ensure that our patients can trust they'll receive the highest quality of care.
02
ADVANCED TECHNOLOGY
We appreciate the evolution of science and innovation, continuously striving to stay ahead of the curve. We offer the latest in orthodontic technology, providing our patients with more comfortable, subtle, and effective solutions.
03
BEAUTIFUL, MODERN OFFICES
In reimagining what dentistry can be, Boston Dental redesigned the traditional dental of office. Instead, our dental centers are sleek, modern spaces that reflect the warmth and premium quality of our services and create a relaxed and welcoming environment for our patients.
PRICING
At Boston Dental, building trust with our patients means being transparent about pricing. We participate in most major dental insurance plans and provide our patients with cost estimates prior to treatment. Please visit our payment and policies page for more information.
FREQUENTLY
ASKED
QUESTIONS
Invisalign is a teeth straightening solution and a subtle alternative to traditional metal braces. They are clear, medical grade resin aligners completely customized to your teeth structure that are removable, comfortable, and effective in moving the teeth incrementally over time.