DENTAL
PERIODONTICS
Periodontic dentistry is a specialization concerned with the integral surrounding structure and support of your teeth – the gums and bone. At Boston Dental, we prioritize a non-surgical approach to the treatment of periodontal disease. Typically, gum recession is treated with grafting, the process of repositioning tissue from one area of the mouth into the affected area to improve gum health and correct the appearance of your smile. Whereas, bone loss is treated through scaling and root planing – a form of deep cleaning to remove bacteria loaded tartar and plaque to halt the progression of disease. In some cases, when a patient's teeth have deep fillings and decay slightly below the gum line, we perform a crown lengthening procedure to expose more of the crown of the tooth to restore it to health.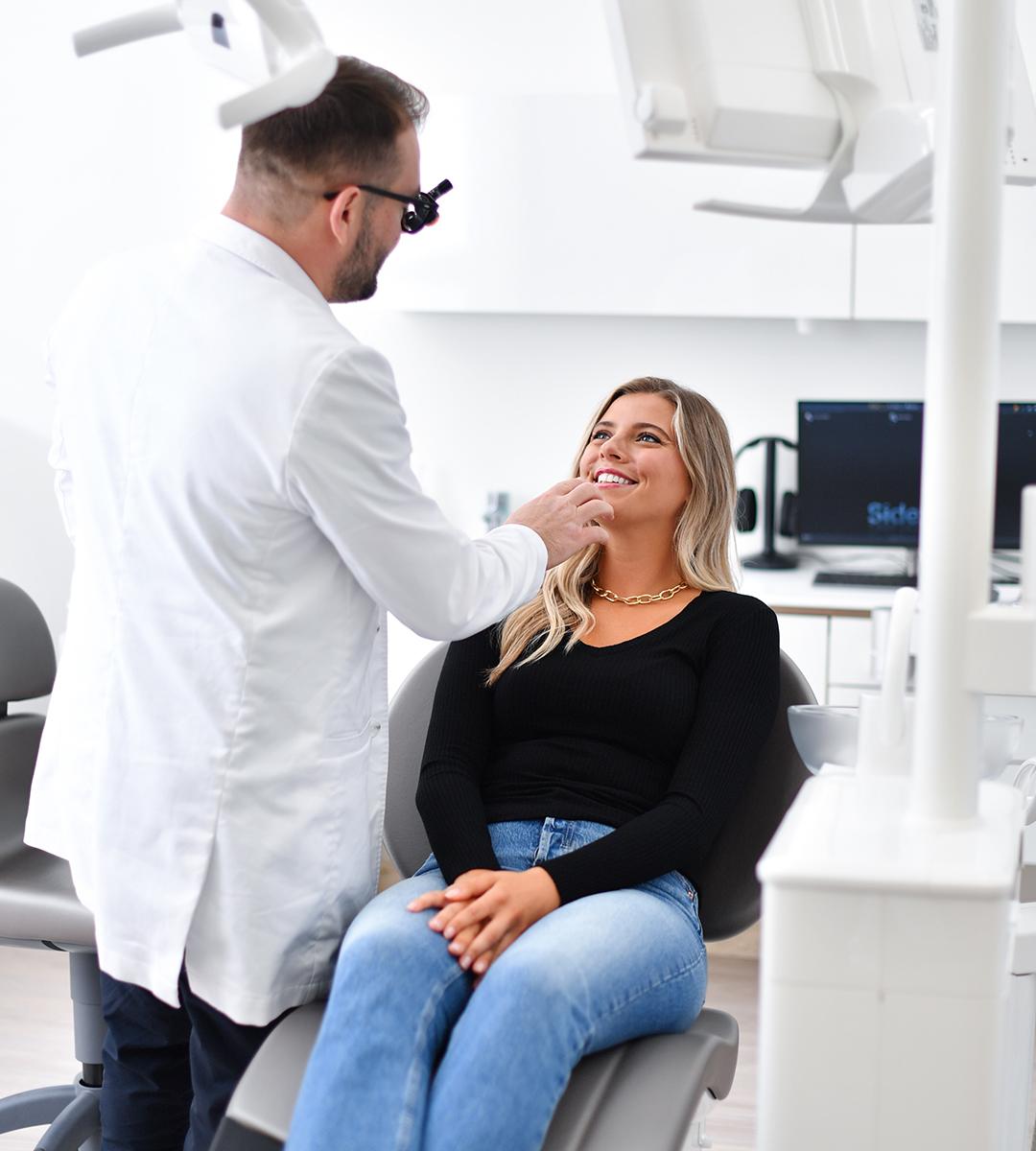 HOW IT WORKS
01. Book Appointment
Easily schedule your appointment in a few simple steps by booking online, calling our offices, or visiting your nearest location. New patients can schedule a virtual consultation online.
02. Preliminary Examinations
Your doctor performs a clinical examination to assess the degree of your condition, alongside x-rays and imaging as needed. In turn, they determine the stage of your situation and provide a prognosis and detailed treatment plan to restore your gums to good health.
03. Treatment
Boston Dental prioritizes a non-surgical approach to treat periodontal disease. Our skilled periodontists execute with gentle care and masterful technique, making it an efficient and painless experience. In cases when the patient doesn't respond to non-surgical interventions, we will recommend local surgery to address the concern.
04. Personalized Aftercare
Following treatment, your provider will carefully review your aftercare plan, including what to expect during the healing process, medications and pain relief, how to care for the sites of surgery, and best practices to avoid the need for retreatment. We're also available around the clock for any emergency concerns.
01
EXPERT DOCTORS
Boston Dental employs some of the most experienced and decorated periodontists in the field and in Boston. Each a master of their craft, our elite team of experts ensure that our patients can trust they'll receive the highest quality of care.
02
ADVANCED TECHNOLOGY
We appreciate the evolution of science and innovation, continuously striving to stay ahead of the curve. We offer the latest in periodontal technology, providing our patients with solutions to prevent pain, discomfort, or periodontal disease.
03
BEAUTIFUL, MODERN OFFICES
In reimagining what dentistry can be, Boston Dental redesigned the traditional dental office. Instead, our dental centers are sleek, modern spaces that reflect the warmth and premium quality of our services and create a relaxed and welcoming environment for our patients.
PRICING
At Boston Dental, building trust with our patients means being transparent about pricing. We participate in most major dental insurance plans and provide our patients with cost estimates prior to treatment. Please visit our payment and policies page for more information.
FREQUENTLY
ASKED
QUESTIONS
If you notice gum recession around your teeth or experience bleeding gums when you brush or floss, it's best to consult a doctor. Early intervention is best for treating and preventing the progression of disease.