DENTAL
RESTORATIVE DENTAL SERVICES
Boston Dental offers different options for restoring the health and brilliance of your smile: composite fillings, inlays, onlays, and crowns. Composite fillings are a simple solution for teeth restoration when enough healthy tooth structure remains after the removal of either decay, damage, or a poor existing filling. Using high-quality modern composite materials, we sculpt and mimic your natural tooth shape and structure. When damage or decay is larger, inlays, and onlays provide patients with a solid solution for preserving the remaining healthy tooth structure. They are beautiful, ceramic restorations – made at our design lab – that mimic the shape, details, and shade of the remaining natural tooth. Together, with your existing tooth structure, inlays and onlays complete the restoration of that once-damaged tooth.
Depending on the size of the restoration and extent of damage, full-coverage ceramic crowns may be recommended. They are permanent ceramic caps affixed on top of the remaining healthy tooth to restore, protect, and cover the entire tooth. Designed by our master ceramicists, crowns beautifully restore the tooth to its normal shape, form, and function. We also offer fixed dental bridges to fix missing teeth and veneers to custom design the smile of your dreams.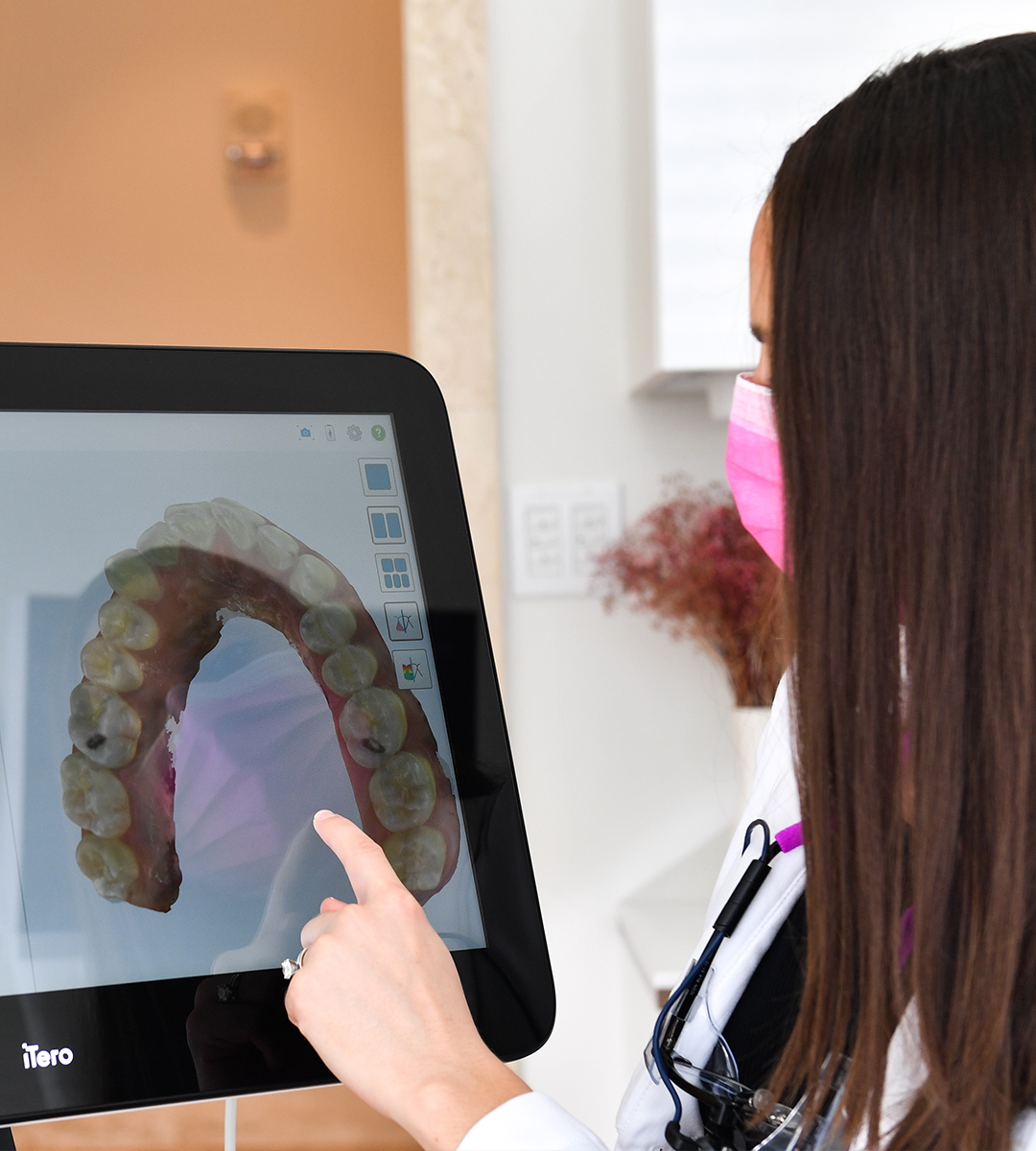 HOW IT WORKS
01. Book Appointment
Easily schedule your consultation with a specialist in a few simple steps by booking online, calling our offices, or visiting your nearest location. New patients can schedule a virtual consultation online.
02. Preliminary Examinations
Our team will help you coordinate any x-rays, imaging, and preliminary examinations needed for diagnosis and treatment. Our doctors carefully review the treatment plan with patients, to ensure full understanding and a collaborative approach.
03. Treatment
Come time for treatment, our skilled doctors and specialists execute with gentle care and masterful technique, making your restoration an efficient and painless experience.
04. Personalized Aftercare
After treatment, we provide each patient with a clear aftercare plan along with techniques to help you maintain the integrity of your inlays, onlays, or fillings – and overall dental health – in-between visits.
01
EXPERT DOCTORS
Boston Dental employs some of the most experienced and decorated doctors in the field and in Boston. Each a master of their craft, our elite team of experts ensure that our patients can trust they'll receive the highest quality of care.
02
ADVANCED TECHNOLOGY
We appreciate the evolution of science and innovation, continuously striving to stay ahead of the curve. We offer the latest technology, providing our patients with more comfortable, effective, and durable restorative solutions.
03
BEAUTIFUL, MODERN OFFICES
In reimagining what dentistry can be, Boston Dental redesigned the traditional dental office. Instead, our dental centers are sleek, modern spaces that reflect the warmth and premium quality of our services and create a relaxed and welcoming environment for our patients.
PRICING
At Boston Dental, building trust with our patients means being transparent about pricing. We participate in most major dental insurance plans and provide our patients with cost estimates prior to treatment. Please visit our payment and policies page for more information.
FREQUENTLY
ASKED
QUESTIONS
Composite fillings offer a solution to help restore a tooth after removing decay and unwanted, stained, or broken fillings using high-quality composite materials to sculpt and mimic your natural tooth structure. Fillings are typically placed in a single visit. First a local anesthetic is applied to numb the area. Then, the tooth is thoroughly cleaned to remove any cavity or decay and bacteria, before a bonding agent is applied and the composite resin placed into the healthy and sound tooth. The composite is artfully sculpted to fit the form, and hardened by light technology to create a seamless, natural-looking restoration.